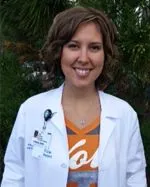 Education
Residency Training,Cleveland Clinic, Cleveland, OH, DPM/Department of Orthopedics July 2011- July 2014

DPM Kent State University College of Podiatric Medicine, Independence, OH Distinction (magna cum laude) June 2011

BS The Ohio State University, Columbus, OH Biology, Chemistry June 2004
Honors and Awards
Half Tuition Scholarship Recipient For maintenance of 4.0 GPA 2008-2011

Unsung Hero Award In honor of significant professional contributions not previously recognized 2011

Educational Resources Award of Excellence Recognition as a dedicated supplemental instructor and tutor 2011

Dr. Morton M. Polokoff Orthotics Award Excellence in clinical endeavors 2011

Pi Delta National Podiatry Honor Society Recognition of Outstanding Scholastic Achievement 2011

Glass Slipper Keynote Speaker Half Tuition Recipient Rally 2010
Teaching Experience
Kent State University College of Podiatric Medicine, Independence, OH 2007-2013
Doctorate courses averaging 120 students per semester

Guest Lecturer, Physical Diagnosis

Guest Lecturer, Biochemistry

Guest Lecturer, Physiology

Guest Lecture, Radiology
Case Western Reserve University, Cleveland, OH 2011
Doctorate courses averaging 60 students per semester Guest Lecturer, Physical Diagnosis

Guest Lecturer, Biochemistry

Guest Lecturer, Physiology
Kent State University College of Podiatric Medicine, Independence, OH 2007-2010 Supplemental Instruction,
Physiology, Biochemistry, Anatomy

Separate 30 min weekly-biweekly course instruction with developed quiz material
Publications
Book Chapters
Bumpus K, Nail Disorders. Indian Textbook of Orthopedic Trauma. 2013.
Journal Publications
Osher LS, Blazer MM, Bumpus K. "Appearance of Osteolysis with Melorheostosis: Redefining the Disease or a New Disorder? A Novel Case Report with Multimodality Imaging." J Foot Ankle Surg. 2013 May(1). pp. 204-211.

Bumpus K, Maier MA. "The ABCs of Wound Care.: Curr Cardiol Rep. 2013 Apr;15(4):346.

Venkatachalam S, Bumpus K, Kapadia SR, Gray B, Lyden S, Shishehbor MH. "The nutcracker syndrome." Ann Vasc Surg. 2011 Nov;25(8):1154-64.
Posters
Graft Jacket as an Interpositional Arthroplasty in Fourth Metatarsal Head Resection. Fall Classic, 2013.

Arthrex Biocartilage: A Technique Guide. Fall Classic 2013.

Myxoid Liposarcoma. Fall Classic, 2013.

Trim It Pins, A Technique Guide. Fall Classic 2012.

Chondromyxoid Fibroma of the Calcaneus. Fall Classic 2011.
Presentations and Invited Lectures
Keynote Address, "Morning of the Bizarre," Fall Classic Conference, 2012

Keynote Address, "Fibromyxoid Sarcoma," Southeast Regional Conference, 2012
Professional Training
Ultrasound Workshop Kent StateUniversity, Orlando, FL, 2012 Description: Application of US in lower extremity

AO Basic/Advanced Training La Jolla, CA, 2013
Professional Affiliations
Member, American College of Foot and Ankle Surgeons, 2007-Present
Professional Service
Mentorship Program KSUCPM Provide guidance for a student throughout medical school 2013-present

Cleveland Homeless Stand down Free Pedal exams and care for the homeless 2012

Cleveland Clinic Health Fair Free pedal exams and care for the general population 2012

Career Day and Mentoring Garfield Heights Elementary School 2007-2008 Dayton University 2009